Aflatoxin M1, a mycotoxin known as a mold toxin, is produced in the livers of farm animals as a byproduct of aflatoxins B/G (B1, B2, G1, and G2). These specific aflatoxins can develop in contaminated animal feed due to certain strains of the Aspergillus flavus fungus. The process of aflatoxins being transferred from the feed to animal products is commonly referred to as the "carry over" effect of mycotoxins.
During the processing of raw milk that contains aflatoxin M1, there is a possibility for the toxin to be transferred to other products derived from the milk. When the milk is skimmed, approximately 10% of the aflatoxin M1 is recovered in the milk fat, while the remaining 90% stays in the skimmed milk. In the process of thickening the milk for cheese production, it is advised that 40% of the aflatoxin M1 should be retained in the curd, whereas 60% should be found in the whey. Overall, depending on the specific type of cheese production, the processing and ripening stages can result in an increase of aflatoxin M1 levels by a factor of 2.5 to 6.
Based on our extensive analysis of laboratory data and public surveillance data, we have uncovered a concerning new trend regarding aflatoxin M1 in various commodities. It is disheartening to report that all baby food samples have positive results for aflatoxin M1, and with over 60% of milk powder samples are yielding positive results. Furthermore, milk, whey powder, and cheese samples have shown a distressingly high number of failed results.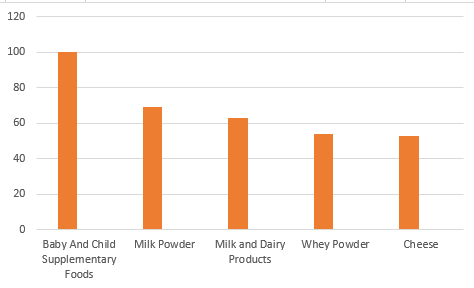 Furthermore, the SGS DIGICOMPLY Early Warning system, which is renowned for its accuracy and reliability, has also predicted undeniable evidence that supports and reinforces our findings of the concerning trend of aflatoxin M1 contamination. This state-of-the-art system utilizes advanced technology to continuously monitor and analyze data from various sources, including industry reports, scientific research, and regulatory agencies, to provide real-time alerts and early warnings regarding food safety issues.