We have just release our quarterly report on Food Frauds.
The Food Fraud Watch quarterly report is a summary of documented incidents in SGS DIGICOMPLY relevant to food fraud and adulteration. Its purpose is to provide a comprehensive overview of the current records, helping food operators and other professionals in the related sectors to identify trends, emerging risks and food fraud vulnerabilities.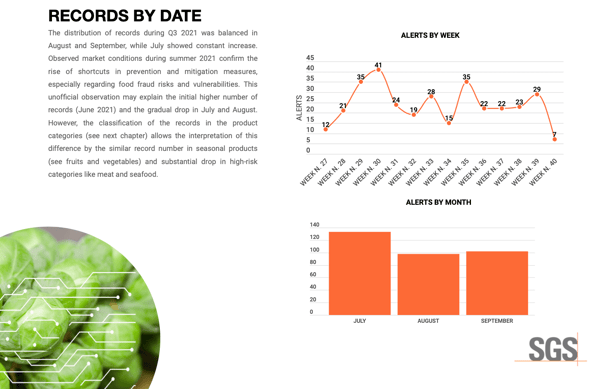 It is divided into the following sections:
- Geo Location of Food Incidents
- Food incidents by date
- Food incidents by product category
- [NEW] Lab Findings for Food Frauds
The data in this report has been extracted from millions of data points collected by the SGS DIGICOMPLY Food Safety Intelligence Platform and processed by SGS experts.
ABOUT THE AUTHOR:
David Psomiadis (PhD) works as Head of the Laboratory and Business Development Manager at Imprint Analytics GmbH, partner lab of SGS. Since 2013, he has settled in Neutal, Austria, as a member of the grounding team of Imprint Analytics. He has published more than 70 contributions in scientific journals and conferences and he holds a regular member position in international committees and working groups (eg. AOAC, CEN) related to food authenticity testing.
As the Head of the Laboratory, he is responsible for supervising and managing all operations related to the laboratory, to meet customer demands. As Business Development Manager, he leads the global Food Authenticity business strategy, brand development and collaborations within global networks and international consortia.