Firstly, what does Snippet search mean? We used the term Snippet for the work we do for you. What we do is that we extract from a document a "snippet" of a text, that is relevant for your search. In the case of Pesticides residues, the snippet includes the substance, and its related limit, prescribed in a given product for a certain market.
How to Start

From the home page, you can generate a snippet view by entering the search bar, and search terms related to Pesticides. For instance you can type "MRL" and then MRL snippet view link to get to the search page.
Once in the snippet search, you can refine your criteria, such as adding or removing markets, substances and commodities, your comparison table will be adapted instantenously.
Watch out, it is a BETA tough..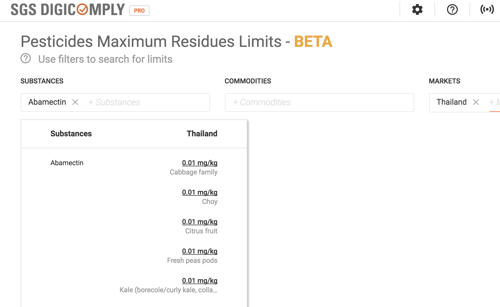 Please, be aware that you are accessing a beta version with coverage limited to China, Australia, Thailand, Philippines and India. However, we are pleased that you are able to see the feature. The future of Maximum Residue Limits information stream.
In a case of an issue, or any suggestion, please find the report button. It will let us know about the issue and help us improve the product for your next use. Report button can be found within the limits detail page also.



Now, as you read instructions, you are ready to rock!