Soybean cultivation is poised for a remarkable resurgence in the upcoming 2023/24 season, with a projected expansion of planting area to 17.1 million hectares, marking a substantial 5.6% annual increase. This surge hints at one of the most robust production levels witnessed in the past half-decade.
A recent report from the Buenos Aires Grain Exchange sheds light on this development, indicating a notable 2.3% rise compared to the five-year average and mirroring the acreage of the 2019/20 season. This growth effectively breaks the streak of declining crop areas.
The Exchange attributes this positive trend to various factors, including the availability of previously untapped land, originally allocated for competing crops like wheat and sunflowers. Additionally, soybeans are gaining competitiveness compared to other summer crops, thanks to a more favorable input/product ratio.
Forecasts for the 2023/24 campaign predict a production volume of 50,000,000 metric tons, marking an impressive year-on-year surge of 138.1%, the second-highest over the last five years.
However, challenges have been encountered. Insufficient moisture during the wheat sowing phase, particularly pronounced in the western regions, led to unmet sowing plans. This resulted in the relinquishment of hectares in South Córdoba, western parts of the North and South, and North Nuclei of La Pampa – West of Buenos Aires.
Further north, the dearth of rainfall in July, August, and September posed obstacles for sunflower planting in the NEA and Central-North of Santa Fe. Consequently, both scenarios have opened up hectares that can now be dedicated to prime soybean cultivation.
The sector report underlines that this expansion is coupled with an 11% year-on-year surge in first-time soybean plantations nationwide, indicating a potential recovery reaching 12.6 million hectares by the 2018/19 campaign.
In terms of the economic landscape, the Grain Exchange notes that while soybean prices remain approximately 25% higher compared to the average of the last five years, corn prices have reverted to a closer average. Specifically, soybeans are 25% higher, while corn stands at a 5% increase. Nevertheless, a notable uptick in supply from South America is anticipated, especially from Brazil, which might exert pressure on prices in the months ahead, contingent on weather conditions and Chinese demand.
Soybeans Market Growth Amidst Rising Incidents: Digicomply Trend Radar Analysis
While experts maintain an optimistic outlook on the Soybeans market, it's crucial to note the concurrent surge in incidents concerning Soybeans. Digicomply Trend Radar has reported a global upswing in incidents covering areas such as Allergens, Bio-Contaminants, Contaminants, Adulteration, and more. This trend may potentially affect market expansion unless businesses take proactive measures, possibly leading to regulatory intervention. Stay updated through the Digicomply APP for continuous monitoring.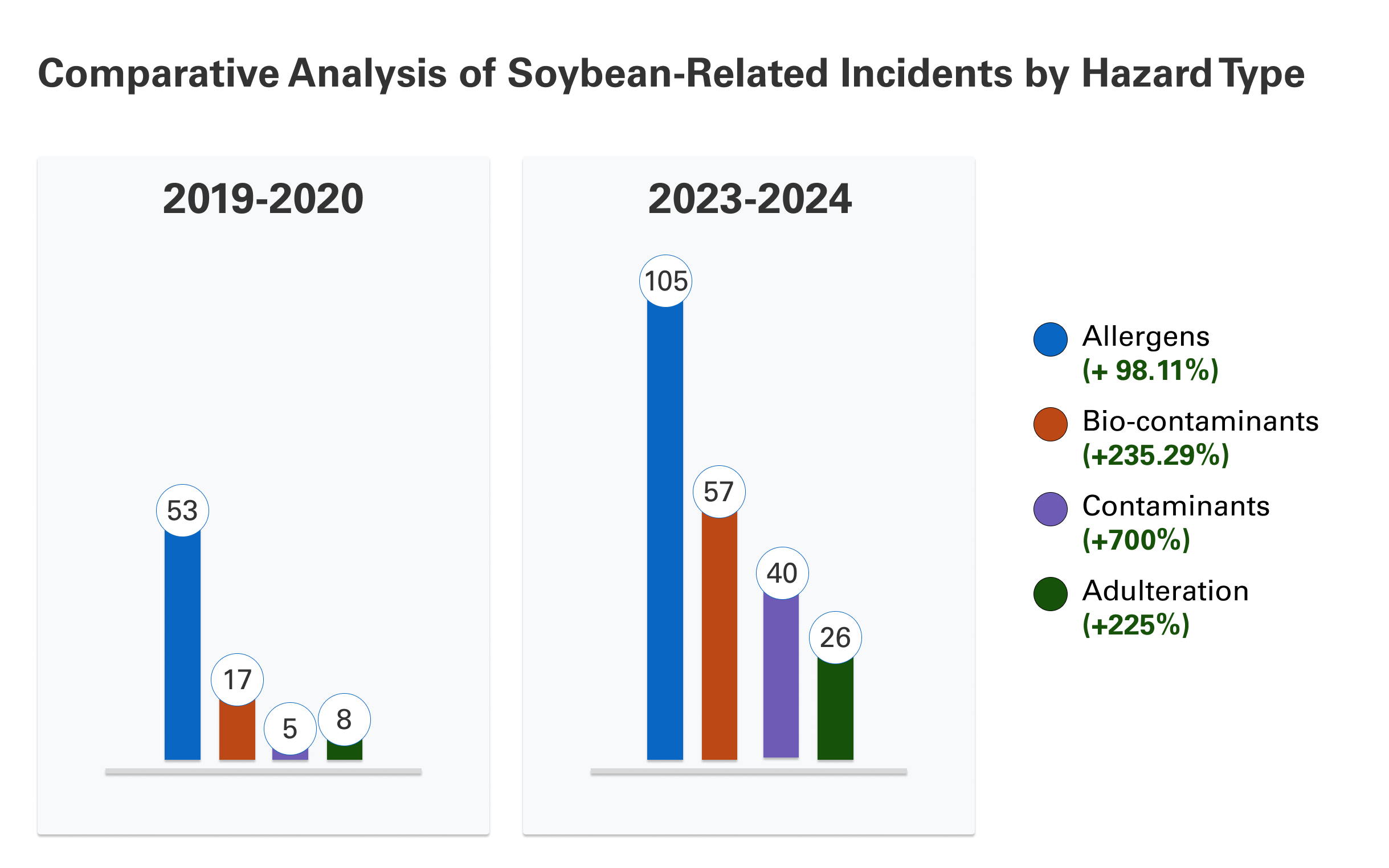 Conclusion:
In the 2023/24 season, soybean cultivation is set for a substantial resurgence, with an anticipated 5.6% increase in cultivation area to 17.1 million hectares. This points to one of the most robust production levels in recent years. Various factors contribute to this positive trend, including the utilization of untapped land and favorable input/product ratios. Additionally, a 138.1% year-on-year surge in production forecasts for the 2023/24 campaign bodes well for the industry. However, it's important to note that alongside market growth, incidents related to soybeans are on the rise. Monitoring these trends through the Digicomply APP is crucial for proactive risk management. Get started for free now.