In a recent development, authorities discovered Listeria monocytogenes, a potentially dangerous pathogen, in a batch of Tahini originating from the Netherlands. This alarming incident, reported on October 5, 2023, has been officially corroborated by the European Commission, signaling a significant food safety concern.
The Risk Assessment and Swift Response
This incident has been categorized as a potential risk, necessitating immediate action. The notification was initiated based on the company's internal quality check, underscoring the pivotal role of stringent quality control measures. The Netherlands, as the notifying country, took decisive steps to address the issue promptly.
Tahini Details and Precautionary Measures
The affected product, Tahini, is classified under the category of herbs and spices. Although the precise extent of potential hazards is still being investigated, precautionary measures have been swiftly implemented. Analytical results indicate the presence of Listeria monocytogenes at a concentration of "Present /25g", highlighting the need for immediate action. Both recipients and consignors involved in the distribution of this specific batch of Tahini were promptly notified. Additionally, the product has been promptly withdrawn from the market to prevent further distribution and consumption.
The Ongoing Vigilance and Future Preparedness
As of the latest update, no subsequent follow-ups or incidents related to this notification have been reported. However, the incident serves as a stark reminder of the critical importance of continuous vigilance and adherence to robust food safety protocols within the industry.
In light of this incident, it is imperative for food producers, distributors, and regulatory bodies to remain vigilant and proactive in ensuring the safety and integrity of food products. This incident also emphasizes the need for enhanced quality control measures and ongoing monitoring to prevent future occurrences.
Tahini-Related Incident Trends: SGS Digicomply Analysis
Over the past three years, Tahini-related incidents have surged from 11 in 2020 to 120 in 2023, marking an over 990% increase. Consequences include recalls, fever, vomiting, and nausea. This demands a rigorous analysis of safety measures in the Tahini supply chain, emphasizing the need for compliance with food safety regulations. Stakeholders must implement robust quality assurance protocols to ensure consumer safety and maintain confidence in the food supply chain. It's worth noting that the high numbers in 2023 could be related to the presence of Ethylene oxide (ETO) in some Tahini batches, further highlighting the urgency of comprehensive safety measures.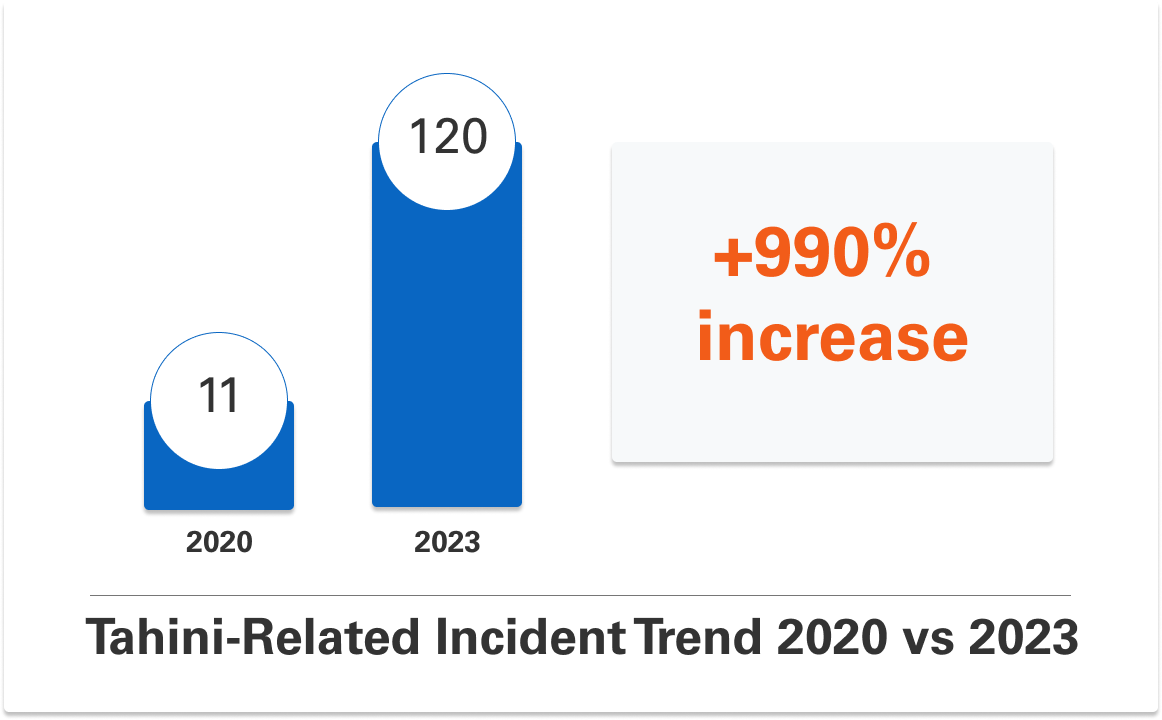 Conclusion
The detection of Listeria monocytogenes in Dutch Tahini underscores the ever-present need for rigorous food safety protocols and rapid response mechanisms. Through collective efforts and a commitment to the highest standards, we can safeguard public health and maintain consumer confidence in the food supply chain. Get started for free now.